ARBCON Hall of Fame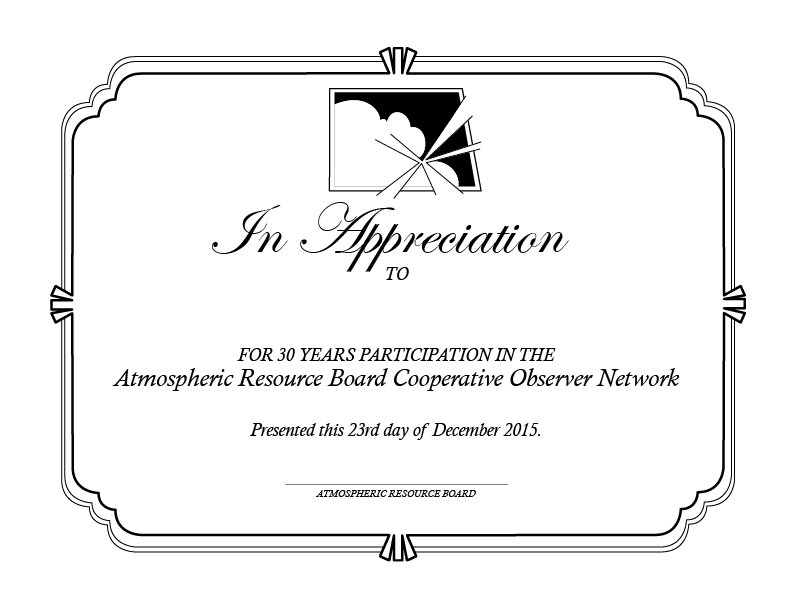 The following observers (active and inactive) have reached 30 or more years of volunteering for the Atmospheric Resource Board Cooperative Observer Network (ARBCON) and deserve extra recognition. Thank you for your dedicated service!
41 Years of Service
Boehm, Keith
Braaten, Marvin
Brickner, Alan
Brinkman, June
Brown, Milton
Dollinger, Milbert
Fettig, Betty
Folkvord, Ross T.
Gartner, Leona
Haas, John L.
Hagen, Dennis
Hardesty, Patty
Havelka, Gerald
Hochhalter, Barbara
Kinzley, Richard & Coleen
Lapica, Jeff
Law, Lloyd
Meyer, Herman
Miller, Eugene
Olson, Kelly D.
Ova, Kevin
Person, George
Pieterick, Larry
Richter, David
Roffler, Malcolm
Ronningen, Barry
Schulz, James
Voigt, Andrew
Wald, Anton A.
40 Years of Service
Anderson, Larry
Braun, Becci
Burbidge, Theresa
Carter, Jimmy
Christensen, Delmer
Dukart, Clyde
Engraf, Ross
Knutson, Kim
Luebke, Donna
Mullen, Winston S.
Olson, Marlene
Thelen, Nick
39 Years of Service
Beckstrand, Brad
Edwards, Darryl
Meier, Paul
Netzloff, Charles
Soderholm, Paul
Strand, Arlyn
Werner, Donald
38 Years of Service
Carlson, Robert
Cook, Mark J.
Fauske, Russell
Hovde, Lynn
Klindworth, Ray
Liebelt, Verna
Meier, Travis
Nord, Olaf
Schauer, Verdun
37 Years of Service
Campbell, Donald
Enderson, Arvin
Heiser, Christ
Hickle, Rodney
Hruby, Marjorie
Johnson, Joanne
Lincoln, Phyllis
Michaels, Doris
Pope, Douglas
Ternes, Seferious
36 Years of Service
Bauer, Jimmie D.
Bezdicek, Robert J.
Carter, Mardella
Costain, Allen
Donaldson, David L.
Dulmage, Robert
Eichele, Geraldine
Estenson, Jerry
Fedje, Marshalle
Greenlee, Billy G.
Kirschemann, Lucille
Klein, Oscar H.
Knoke, Richard
Krein, Loren
Langton, Brian
Miller, Ken
Miller, Loretta
Miller, Margie
Nitz, William H.
Scheffert, Madella
Schlosser, Joe
Smith, Willis
Wall, Arthur
Wanner, Monica
35 Years of Service
Becker, Virginia
Fisher, Bart
Fossen, Cecil
Galbreath, Wyman
Hagerott, Arden
Heinle, Ethel
Hochhalter, Keith
Jacobson, Eunice G.
Leichtman, Ms. Joann
Lien, Nels E.
Pohl, Keith
Porter, Ronald
Presler, Walter H.
Romfo, Dennis
Saxberg, Arnold
Steig, Leonard
Williams, Lee
34 Years of Service
Anderson, Caroline
Boone, Roger
Borner, Lavonne
Breuer, Marlyne
Brodehl, Jeanette
Craft, Caroline
Duhr, Dorothy
Faul, Allen W.
Filipi, Tillie
Flaa, Steiner
Frieze, John
Hoff, Lawrence
Hoselton, Sharland
Kallis, Arnold
Koehn, Arvel
Oster, Carolyn
Pankow, Gerhardt
Perkins, Lloyd
Roloff, Rowen
Ronningen, Clara
Waswick, Lyle
33 Years of Service
Anderson, Mark
Erickson, Dale
Glovich, Sandra
Harms, Walter
Johnson, Marjorie
Kram, Curt
Laine, Kathy
Lundgren, Krista
Olson, Ralph
Pietsch, Elvin
Sayler, Rolland F.
Stenberg, Titus
Swindler, Kerry
Torrance, Robert
32 Years of Service
Bliss, David
Bosch, Jerome C.
Dilse, Stuart
Dix, Lena
Fugl, Jodi
Gerszewski, Richard
Halverson, Marvin
Johnson, Ardith
Johnsrud, Doug
Ness, Lyle R.
Peters, Charles
Poleschook, Ardella
Schauer, Elta O.
Schmaltz, Nicholas
Schmaltz, Paul
Schweitzer, Amelia R.
Tachenko, Terry
Tomac, Frank
Vogel, Shirley
31 Years of Service
Aarseth, Terry
Allard, Allen
Anderson, Lonnie L.
Armentrout, Rodney
Arneson, Jerome
Banderet, Robert
Barnick, Leroy
Bear, Donald
Bear, Kay
Belohlavek, Dan
Betsch, Perry
Bobb, Milton
Boyko, Maynard
Brademeyer, Fred J.
Brudevold, Russell
Harwood, Susan
Hellandsaas, Orville
Hintz, Elvera
Kanski, Nick
Kurtz, Carol
Miller, David J.
Mosset, Willy
Randall, John
Rosenau, Gary
Schultz, Herbert L.
Tompkins, Donna
Wetzstein, Bill
Wolf, Lavern A.
Zerr, Allen R.
30 Years of Service
Anderson, Mary L.
Bergh, Jon & Glenda
Daley, Mitch
Dekrey, John E.
Ekman, Karen
Hochhalter, Alice
Lee, Harlan
Lillibridge, Robert
Loeb, Amy
Mau, Shari M.
Mork, Ella
Neubauer, Larry
Privratsky, Steven M.
Puhr, Steve
Sand, Jerry
Scharbow, Lonnie
Ulrich, Terry
Werle, Edward
Whitman, Irene